My name is Seth Werkheiser (founder of Noise Creep, Buzzgrinder), and I've been publishing nerdy metal trivia on Twitter since 2011.
1. Follow on Twitter (@skulltoaster) or Instagram (@skulltoaster). Answer at any time and I'll reply - right or wrong.
2. Subscribe to the nightly email newsletter. It's filled with metal knowledge and trivia about the albums you love and (maybe) the bands you've never heard of.
---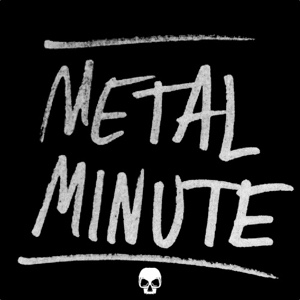 Metal Minute is our twice a week podcast. A goofy homage to AM news radio, but with heavy metal news briefs, commentary, and interviews.
Listen on
the web
or
listen in iTunes
.
---
Below (and all over this site) is the sort of metal knowledge that you'll find in the nightly email newsletter.
Megadeth's 1992 'Countdown to Extinction' was recorded in Burbank, CA, during part of the Rodney King Riots. With a 6pm city-wide curfew in effect,
the band actually had to leave the studio in the early evenings
.
Unsane hits the stage at 3am and proceed to lay waste to the place in front of just a few people. One of those few people? "Gerard Cosloy from Matador (Records)," explains vocalist / guitarist Chris Spencer, "
and that's how we got a deal with them
."
Electric Wizard's name comes from combining two Black Sabbath songs, 'Electric Funeral' and 'The Wizard.' "We were very wasted and we had to come up with a name," said current guitarist Liz Buckingham, "
we just came up with Electric Wizard and stuck with it
."
Eyehategod drummer Joey LaCaze, a founding member of the band,
died in 2013
from respiratory failure. He was just 42 years old.
Agoraphobic Nosebleed's, 'Make a Joyful Noise,' includes a lyrical line, "
By lord, savior producer, douche / Fuck Kurt Ballou
."
Sodom's 'Obsessed with Cruelty' was actually recorded two different times in 1986, in two different German cities, Berlin and Nuremberg, on two different labels- Metal Blade Records and Steamhammer Records, and
even with a different guitar player
.
Ben Verellen of Helms Alee is the brother of Dave Verellen, who handled vocals for Botch and currently fronts part-time mathcore super group Narrows.

Longest Converge track: 'Jane Doe'

Before ASG released 'Blood Drive,' guitarist / vocalist Jason Shi was packing online orders for the band and noticed one from the Relapse Office. Turns out it was an order from the VP, who said they had some fans at the office. Shi mentioned, "you guys should put out our next record." After some more emails and phone calls they did just that.

In early February of 2015, Cannibal Corpse was honored by their long time label Metal Blade Records for achieving a huge career milestone - two million total albums sold worldwide.

Rob Zombie has a storied life as an artist. He was a production assistant on the set of 'Pee-Wee's Playhouse,' and he met Sean Yseult while attending Parsons School of Design in 1985 (and would start White Zombie with her).

The cover of Cannibal Corpse 'Eaten Back to Life' was banned in Germany and censored elsewhere for its violent album art and lyrics, forcing the band to release the album in a black case.

Sonata Arctica started out as Tricky Beans in 1996.

Doro's Warlock was the first female-fronted band to play the UK's Monsters of Rock Fest in Castle Donnington.

Dreaming Dead, previously Manslaughter, was formed in 2006 by singer / guitarist Elizabeth Schall and drummer Mike Caffell. The name came from Schall digging through assorted H.P. Lovecraft books, when she stumbled upon the two words - and the domain name wasn't taken!

Hatebreed founding guitarist Wayne Lozinak didn't make his first full-length album appearance until 2009's 'For The Lions.'

Royal Thunder were (incorrectly) name after Bob Dylan's 'Rolling Thunder' Tour.

Witchfinder General were not only an influence on Lee Dorian and Cathedral, but they were named after the 1968 British horror film of the same name, starring Vincent Price. The set used for the music video for Stone Temple Pilot's 'Sex Type Thing' was also used by Sunny Day Real Estate for their video 'In Circles,' which came out in 1994.

Sound Barrier pre-date Living Colour by about four years. Sound Barrier were noteworthy for being a Los Angeles hard rock band in which all four original band members were African-American. So some could say the didn't just break the "Sound Barrier," but the color and cultural barrier, as well.

Formed in 1989 as Dolmen, the group changed their name to Absu (a mythical subterranean ocean) in 1991.

The Skid Row name cost the band $35,000, sold to them by Gary Moore of Thin Lizzy.

Guitarist Justin Lee Brannan (Most Precious Blood) is the current president of the Bay Ridge Democrats.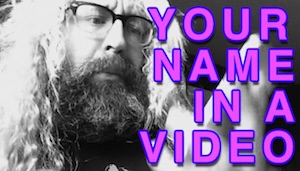 Skull Toaster is supported via our
40+ Patreon supporters
. At just $1/mo you can support nerdy metal knowledge and get your name mentioned in one of my videos - click
here
for the Skull Toaster Patreon.

---
Some great people have helped write the nightly email newsletter over the years.
Nathan Sizemore wrote about Curl Up and Die
Jeremy Hunt wrote about Deftones, Stryper, Alice in Chains
Steven Shreve wrote about Motörhead
Collin Simula wrote about Electric Wizard
Bobby JK wrote about Sacred Reich, Brujeria, Suicidal Tendencies, Decapitated, Desultory, Atheist, Overkill, Suffocation, Death, Atrocity, Solitude Aeturnus, Meathook Seed, Disincarnate, Obituary
Manny-O-War wrote about The Misfits, Ozzy Osbourne, Alice Cooper, Dark Tranquillity, Motörhead, Trap Them, Evanescence, Ratt, Ben Koller, System of a Down, Katatonia, metal beer, Trapt, Static-X, Disturbed, Roddy Bottum, Twiggy, Extreme, Tom Araya, Scorpions, Agalloch, Venom, Tool, Nergal, Ranger, Vader, Doro, Prong, SubRosa, Vixen, Immortal Bird, Dee Snider, Coroner, Nightwish, Type O Negative, All Out War, Meshuggah, Bathory, Mastodon, Overkill, Bang, Eight Bells, Motörhead, Europe, Ozzy Osbourne, The Dillinger Escape Plan, Stone Temple Pilots, Mell Dettmer, Iced Earth, Converge, Sacrilege, Rush, Mastodon, Metallica, and Enforcer, All Shall Perish, Satan, Gloryhammer, Bride
Markus Johansson wrote about Burton C. Bell, Deep Purple, 'Pledge Night', Metallica, Dee Snider's 'Strangeland', Fastway, Megadeth, Quiet Riot, Exodus, Scott Travis, Sodom, Cannibal Corpse, Morbid Angel, Ghoul, Metallica, Nevermore, Brian May, The Melvins, Testament, Nile, Nuclear Blast, King Diamond, Destruction, Glen Drover, A Perfect Circle, Hellyeah, Slayer, Anthrax, Megadeth, Testament, Chevelle, Metallica, Slayer, Anthrax, K.K. Downing, Testament, Sanctuary, Slayer, U.D.O., Whiplash, Jason Mackenroth, Motörhead, Anthrax, King Diamond, God Dethroned, Judas Priest, Suffocation, Kreator, Amorphis, Slayer, Cathedral, Exodus (and Exodus again), Alcatrazz, Chris Holmes, Edge of Sanity, Megadeth, Possessed, Carcass, Iron Maiden, Corrosion of Conformity, Boiler Room, Opeth, King Diamond, Sacred Reich, Devin Townsend, Hellraiser"
Laura Ansill has written about Motörhead, Bongripper, Crowbar, Black Sabbath, Suicidal Tendencies, Orange Goblin, Metallica, Saint Vitus, Maruta, At The Gates, Monster Magnet, Black Math Horseman, 2011 Metalliance Tour, Earth, Trouble, Brothers of the Sonic Cloth, Church of Misery, Coal Chamber, Faster Pussy Cat and Isis, Eyehategod, Agrimonia, Bleeding Through, Electric Wizard, Shroud Eater, Ahab, A Storm of Light, Jucifer, Monarch, Tiamat, Shining, Artillery, Floor, Sodom, and Rwake.
Kelsey Chapstick has written about Helloween, High On Fire, Drummer Eric Carr, Iron Maiden, John Bonham, Dave Lombardo, Howl, Neurosis, Khanate, Black Sabbath, Nancy Wilson, Nikki Sixx, High on Fire, Megadeth, Necrophagia, Fear of God, Slough Feg, Iron Maiden, Motörhead, New Years Day, Rotting Christ, Deicide, Death Karma, Amaranthe, Bathory, Motely Crue, Acid King, Sigrid Sheie, Periphery, Penelope Spheeris, Judas Priest, Metallica, Slayer, Motör Head, Helloween, Mouth of The Architect, Trixter, Soundgarden, Krokus, SubRosa, Metallica, Children of Bodom, Testament, Iron Maiden, The Berzerker, Celtic Frost, High on Fire, Lucifer, Mastodon, Pantera, Slaughter, and Europe, Goatwhore, Nunslaughter, Black Cobra, and Helmet.
Amy Sciarretto has written about Alter Bridge, Black Sabbath, Downset, Fear Factory, Erik Rutan, Deicide, Sound Barrier.
Lindsey Turnbullet has written about Iron Maiden, Paradise Lost, Holy Grove, Raging Speedhorn, Rainbow, Pig Destroyer, L7, Abnegation, Sammy Hagar, Possessed, Darkthrone, Motörhead, Flotsam and Jetsam, Abysmal Dawn, LoudBlast, Obituary, Fudge Tunnel, Nevermore, Coroner, Cannibal Corpse, Rage, Fleshgod Apocalypse, Krisiun, Alice Cooper, Death, Exodus, Death Angel, Lamb of God, Gorguts, Exodus, Katherine "Kat" Katz, Absu, Kyuss, Man's Gin, Agoraphobic Nosebleed, Wormrot, Acid King, Warlock, Hypoxia, Alekhine's Gun, Flotsam and Jetsam, Therion, Kylesa, Exodus, Death to All, Dead Congregation, Overkill, Ritchie Blackmore's Rainbow, Orbweaver, and Bleed the Pigs.
Jeremiah Nelson has written about The Black Dahlia Murder, Gorgoroth, Powerglove, Poison, Coalesce, Zao, Kittie, SubRosa, Vildhjarta, Black Sabbath, Dio, Deftones, Blind Guardian, Enslaved, Rotting Christ, Hear 'n Aid, Orgy, Metallica, Kvelertak, Ozzy Osbourne, Judas Priest, Heart Of A Coward, Destruction, Every Time I Die, Metallica, Mortification, Katatonia, Zao, Megadeth, Metallica, Toxic Holocaust, Def Leppard, The Deftones, Bloodlet, Skid Row, Five Finger Death Punch, Anthrax, Tribulation, Dilling Escape Plan, Faster Pussycat, Metal Church, Dissection, Witch Charmer, Danzig, Celtic Frost, Underoath, Kreator, Sabaton, Dark Angel, False, Zao, Still Breathing, Anthrax, Amy Correia, Mastdon, High On Fire, Church, Atomkraft, Evergreen Terrace, Nervosa, Motorhead and Sunn O))), S.O.D., Wolvserpent, As I Lay Dying, Royal Thunder and Warhammer, Marilyn Manson and Mötley Crüe, Sonata Arctica , Dååth and Nuclear Assault, Gene Hoglan, Skid Row, Origin, Avenged Sevenfold, Megadeth, Overkill, Probot, The Defiled, Helms Alee, Doro / Warlock, Vio-lence, Slayer, Linkin Park, Accept, Bolt Thrower, Anthrax, Fear Factory, Ace Frehley, Cretin, The Wage of Sin, Rob Zombie, Van Halen, Unlocking the Truth, Pentagram, 24-7 Spyz, Buried Inside, John Tempesta, W.A.S.P. and Black Sabbath, Earth Crisis, Xibalba, Exumer, Mikkey Dee, Straight Line Stitch, Sleeping Giant, Paradise Lost, My Dying Bride, and Anathema, Hooded Menace, AC/DC and Training for Utopia, Woods of Ypres, Black 'N Blue, Voivod, Manowar and Mantar, Korn, Electric Wizard, and Devourment, Ratt and Slipknot, Lacuna Coil, KISS, Infectious Grooves, Anthrax, Black Sabbath, Mayhem, Lamb of God and Black Sabbath, Master, Skeletonwitch and Municipal Waste, Baroness, Exodus, Gamma Bomb, and Zakk Wylde
Kyle Unzicker has written about Ithaca, Nails, Praxis, Zao, Decapitated, Norma Jean, The Red Chord, Tesseract, Iron Maiden, Manowar, Meshuggah, At All Cost, Candiria, Electric Wizard, Red Fang, NIN, Botch, Protest the Hero, Arsis, Royal Thunder, Slaughter, Skid Row, Unearth, Alicia Warrington, Into Darkness, Van Halen, Cannibal Corpse, Testament, and Slayer, Deafheaven, Demon Hunter and The 3rd and the Mortal, Kvelertak, The Ocean, Russian Circles, Control Denied and Crowbar, Death Angel, Lamb of God, Iron Maiden, and Finntroll, All That Remains and Embodyment, Unearth, 1349, Dimmu Borgir, Living Sacrifice, Acacia Strain, Periphery, Trivium, Arsonists Get All the Girls, Slipknot, Soulfly and Korn, Mendel Bij De Leij, Neon Christ, Killswitch Engage, Monuments, Trivium, Pig Destroyer, Iron Maiden, Meshuggah, Ratt, Vision of Disorder, Demon Lung, Neurosis and Krokus, Weakling, Julie Christmas, Cannibal Corpse, and Sumac.
Seth Werkheiser has written about a bunch of things: Project 86, Exodus, Periphery, Castle, Dethklok, Kerry King, Def Leppard, Korn, Sara Claudius, Carcass, Overkill, Megadeth, Killgore, The Dillinger Escape Plan, Life of Agony, Andy LaRocque, Anthrax, Carved Up, Napalm Death, Coal Chamber, Anthrax, Aerosmith, The Blank Theory, Kayla Phillips, HammerFall, Metallica, Frankie Banali, Venom Prison, This or the Apocalypse, Saliva, Alice in Chains, Gorguts, Employed to Serve, Clutch, Ozzy Osbourne, Entombed, Faith No More, Blackie Lawless, Lääz Rockit, Yattering, King Diamond, Ministry, Opprobrium, Cathedral, Abnormality, Bolt Thrower, Jeff Loomis, Boysetsfire, Bring Me the Horizon, Type O Negative, Kid Kilowatt, Burst, Emperor, Bon Jovi, Marilyn Manson, Boris, Oathbreaker, Man's Ruin Records, Living Colour, Converge, John Stanier, Employed to Serve, Guns N' Roses, Soundgarden, Chela Rhea Harper, Iron Maiden, Whores, ZnoWhite, Skid Row, DragonForce, Sleez Beez, Slipknot, Sylosis, Municipal Waste, God Forbid, Guns 'N Roses, Alice in Chains, Ol Drake, Throwdown, Krokus, Faith No More, Misery Index, Alice in Chains, Sepultura, Six Feet Under, Exodus, Tool, Between the Buried and Me, Borknagar, Danger Danger, Metallica, Pantera, Opeth, Slayer, Oceano, Black Tusk, Swallow the Sun, Baptists, Jag Panzer, Nailbomb, Sybreed, Phil 'Philthy Animal' Taylor, Megadeth, Jon Bon Jovi, Baroness, The Agony Scene, White Lion, Pop Evil, Iced Earth, Fear Before the March of Flames, Mumakil and Origin, Grave, Warrant, Windhand, Mr. Bungle, Vhöl, 3 Inches of Blood, Whitesnake, Drowning Pool, Nothingface, Gamma Ray, Helmet, Poison, Most Precious Blood, W.A.S.P., Himsa, Blind Guardian, Stryper, Textures, Battle Beast, Steven Wilson, Vallenfyre, Drowningman, Metallica, Marilyn Manson, Slipknot, Lordi, Saxon, Accept, Pantera, Anathema, Hirax, Megadeth, Dio, Bible Black, Living Colour, Grave Digger, Slayer, Conan, Soilwork, Mastodon, Cathedral, Godflesh, Warbringer, The Acacia Strain, Jo Bench, Metal Church, We Came as Romans, Headgirl, Amon Amarth, Disturbed, Puscifer, Pantera, Black Sabbath, Maylene & the Sons of Disaster, At The Gates, Frodus, Witch Mountain, Rush, Dillinger Escape Plan ( again, again ), The Sword, Hellyeah, Sepultura, Prong, Entombed, ASG, Power Tool, Rainbow, Mr. Bungle, Unsane, Pyrrhon, Emmure, Acid Bath, As I Lay Dying, Mortals (interview), Accept, Tombs, Anthrax, Helmet, Samantha Maloney, Slayer, Megadeth, Cro-Mags, Voivod, Living Colour, Heathen, Downset, Red Fang, Motörhead ( again) , Elizabeth Schall, Morbid Angel, Royal Thunder, Poison, Watain, Without God, Nevermore, Paths of Possession, Body Count, Iron Reagan, Hatebreed, Isis, Manowar, Destruction, Atlas Moth, Converge, Arsis, and a whole lot more (I'll link to them eventually).
Ben Pike has written about Powerman 5000, Audioslave, and Soundgarden.
"Capitol Records turned it into one big fucking nightmare," said guitarist Gary Holt, "throw speed into that mix and it was just too much." Though it sold 52,364 copies to date, 'Force of Habit' was the band's first not to rank on the Billboard charts. Perhaps that's why
Exodus took a break in 1993
.
Flotsam and Jetsam's 'No Place for Disgrace' was almost named '
Blessing in Disguise
.'
---
GIVE AWAYS
Got an album / book / product you're looking to promote? Let's do a give-away! Get in touch:
seth@skulltoaster.com
Previous Give Aways:
Fun with Robots, Black Metal Coffee Stainless Steel Travel Mug (Nov 2016)
Whores / Crowbar, 'Gold' &'The Serpent Only Lies' (Oct 2016)
Yeti On Horseback, 'The Great Dying' (Oct 2016)
BLACK YO)))GA Meditation Ensemble, 'Cycle of Suffering' (Sept 2016)
Slaves B.C., 'All Is Dust and I Am Nothing' (Feb 2016)
Tesseract, 'Polaris' (September 2015)
Fuck the Facts, 'Desire Will Rot' (August 2015)
High on Fire, 'Luminiferous' (June 2015)
SIG:AR:TYR, 'Godsaga' (Apr 2015)
Prong, 'Songs from the Black Hole' (Apr 2015)
Royal Thunder, 'Crooked Doors (Apr 2015)
Twingiant, 'Devil Down' (Mar 2015)
Venom, 'From the Very Depths' (Jan 2015)
Revocation, 'Deathless' - Metal Blade Records (Oct 2014)
Islander, 'Pains' EP - Victory Records (Oct 2014)
Slaves BC / Grace & Thieves Split (Sept 2014)
Black Crown Initate, 'The Wreckage of Stars' - eOne (Sept 2014)
Overkill, 'White Devil Armory' - eOne (July 2014)
Primitive Man / Hexis Split (May 2014)
Mod Cabin beard pack (Feb 2014)
Giza, 'Future Ruins' (Jan 2014)
Truckfighters, 'Universe' (Jan 2014)
Throwdown, 'Intolerance' - eOne (Jan 2014)
Erimha, 'Reign Through Immortality' - Victory Records (Dec 2013)
Monuments Collapse / Breag Naofa Split LP (Dec 2013)
Axeslasher / Call Of The Void 7″ (Dec 2013)
Impending Doom, 'Death Will Reign' - eOne (Nov 2013)
Living Sacrifice, 'Ghost Thief' Solid State Records (Nov 2013)
'Hellbent for Cooking: The Heavy Metal Cookbook' (Nov 2013)
Pyres, 'Year of Sleep' (Oct 2013)
'Mean Deviation: Four Decades of Progressive Heavy Metal' (July 2013)
'Ministry: The Lost Gospels According to Al Jourgensen' (July 2013)
'The Merciless Book of Metal Lists' (July 2013)
Black Metal Coffee Mug (July 2013)
Holy Grail, 'Ride the Void' - Prostehtic (Jan 2013)
Everything In Slow Motion 7" (Oct 2012)
God Machine sticker pack (
Sep 2012
)
'DOOM: Love Poems for Supervillains' (Aug 2012)
Black Metal Coffee print (Aug 2012)
Evil Treats t-shirt (Aug 2012)
Got an album / book / product you'd like to give-away?
Get in touch: seth@skulltoaster.com
---
Jerry Cantrell's solo on 'Grind' was
lifted from his ADAT demo
that he made.
Pantera, 'Goddamn Electric,' from 2000s 'Reinventing the Steel,' went platinum in just two months time. Slayer guitarist Kerry King recorded the outro guitar solo backstage at Ozzfest in Dallas, TX
in one take
.
Slayer's 'Divine Intervention' peaked at #8 on the Billboard Charts in the US,
selling 93,000 copies in its first week
.
Cathedral's 'Night of the Seagulls' was inspired by the
1975 horror movie of the same title
.
---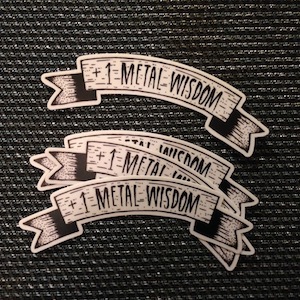 These ""+1 Metal Wisdom"" stickers are perfect for the metal genius in your life (even if that's you). They go great on laptops, guitars, and coffee mugs.
Order here
.
---
Music is not (Runhild Gammelsaeter's of Thorr's Hammer) only love though, she also has a
PhD in cell physiology from the University of Oslo
and serves on the Board of Directors of a Norwegian biotechnology company.
The (Clark) brothers also
co-own Invisible Creature
, a design and illustration studio responsible for album artwork for the likes of Foo Fighters, Coalesce, and Norma Jean.
Loudblast may have been the first French death metal band. I thought they were my little secret, actually. I fell in love with them on the Barge to Hell after watching vocalist / guitarist Stef Buriez make some of the most awesomely twisted death metal faces while jamming
Florida-inspired French death metal
on the pool deck.
Ghost had signed to Seven Four Entertainment in 2012, an imprint label under the Universal Republic mega label. The band apparently got around a $750,000 advance, which Vince Neilstein at MetalSucks says was, "
not rumor, it's fact
."
According to Ian Keith Rogers, producer Wharton Tiers (who recorded Helmet's debut, 'Strap It On') recorded the vocals on 'Meantime' using a, "635 Electrovoice,
which is an $80 mic
."
In a 1999 interview, Cedric Bixler-Zavala says At the Drive-In
got their name
from Poison's, 'Look What the Cat Dragged In.'
The cover of Baptist's 'Bushcraft' was shot with a unique filter: "Our friend Jill shot it
using her underwear for a filter
."
---
LINKS
Full Metal Hipster
- solid podcast
Inhale the Heavy
Vinyl Altar
- Great record shop in Philadelphia
Metal BandCamp
Xtapolapometal
- Metal + The Simpsons
Pizza Brain
- Philadelphia pizza shop
Good Road Network
- they make touring easy
Piercing Metal
- metal & pop culture
Nine Circles
- metal reviews and features